Hot
New
In stock
Pre-order
Out stock
Cheek AG Patch (4PAIRS/BOX)
Hurry! Only 0 Left in Stock!
Order in the next to get it by
PRODUCT INFORMATION
Product safety
Manufacturing
About Labbotach
Research & Developement
CUSTOMER REVIEWS
PRODUCT INFORMATION
Obliž proti staranju za obraz (Cheek AG Patch)
UČINKOVITO ZMANJŠUJE GUBE NA OBMOČJU LIC
Obliži proti staranju za obraz so zasnovani posebej za intenzivno nego gub na licih. Zaradi staranja in suhosti kože se na območju čela pojavijo gube. Kombinacija sestavin and hidrogelne tehnologije obliža pomaga v boju proti gubam in pri obnavljanju elastičnosti kože ter nudi antioksidativni učinek. Zaradi hidrogelne tehnologije, obliž na prizadeto območje deluje vlažilno in hladilno. Dobro se prilega čelu in je enostaven za uporabo.
V Evropi registriran kot Kozmetični produkt (CPNP). Z ISO certifikatom za varnost in kakovost. Učinkovitost klinično dokazana s strani Derma Test.
PREDNOSTI
Intenzivna nega gub na licih.
Naš hidrogelni obliž daje koži elastičnost in vlažnost.
Uporabljajte čez noč (8 ur) za najboljše rezultate.
Zagotovljen učinek proti staranju iz udobja vašega doma.
Produkt razvit v Koreji, št. #1 na področju lepote.
AKTIVNE SESTAVINE
Natrijev hialurat, hidroliziran kolagen, bioflavonoidi, tokoferil acetat
Obliž proti staranju za čelu vsebuje različne sestavine, kot so: natrijev hialurat, ki ima vlažilni učinek, hidrolizirani kolagen, ki zmanjšuje gube na območju čela (proti staranju), tokoferil acetat in bioflavonoidi, ki kožo pomlajujejo.
INDIKACIJE
Hidrogelni Matrix obliž za zdravljenje povešene kože na predelu lic.
NAVODILA ZA UPORABO
Pred uporabo temeljito očistite in osušite kožo.
Z obliža odstranite zaščitno folijo in ga namestite na območje pod očmi.
Za boljši oprijem nežno pritisnite ob robove obliža.
Za najboljše rezultate obliž pustite delovati vsaj 4 ure.
(Obliž lahko uporabljate do največ 8 ur. Za najboljše rezultate je priporočeno, da ga uporabite čez noč.)
KLINIČNA ŠTUDIJA
Testni subjekti: 20 zdravih odraslih žensk, starih od 30 do 49 let
Obdobje uporabe: 4 tedni (1-krat/dan). V primerjavi pred uporabo produkta, se je elastičnost kože (bruto vrednost elastičnosti) statistično značilno povečala, zaradi česar so se gube znatno zmanjšale.
Študija je bila izvedena s strani "Derma Test".
Product safety
World-class approved hydrogel patches
Registration for Class 1 medical devices completed in Europe

our promise
Labottach promises to always only offer its customers safe and effective products that are strictly clinically approved.
We only use highly effective and mild components that can minimize skin problems and maximize the effects.
No use of parabens, artificial pigments, dimenthicon, formaldehyde and phthalate.
Wooshin Labottach continues to conduct clinical studies to guarantee the effectiveness and high quality of our products


Dermatest Germany is a research institute founded in Germany in 1978 in which companies and researchers work together in the field of skin care with public trust.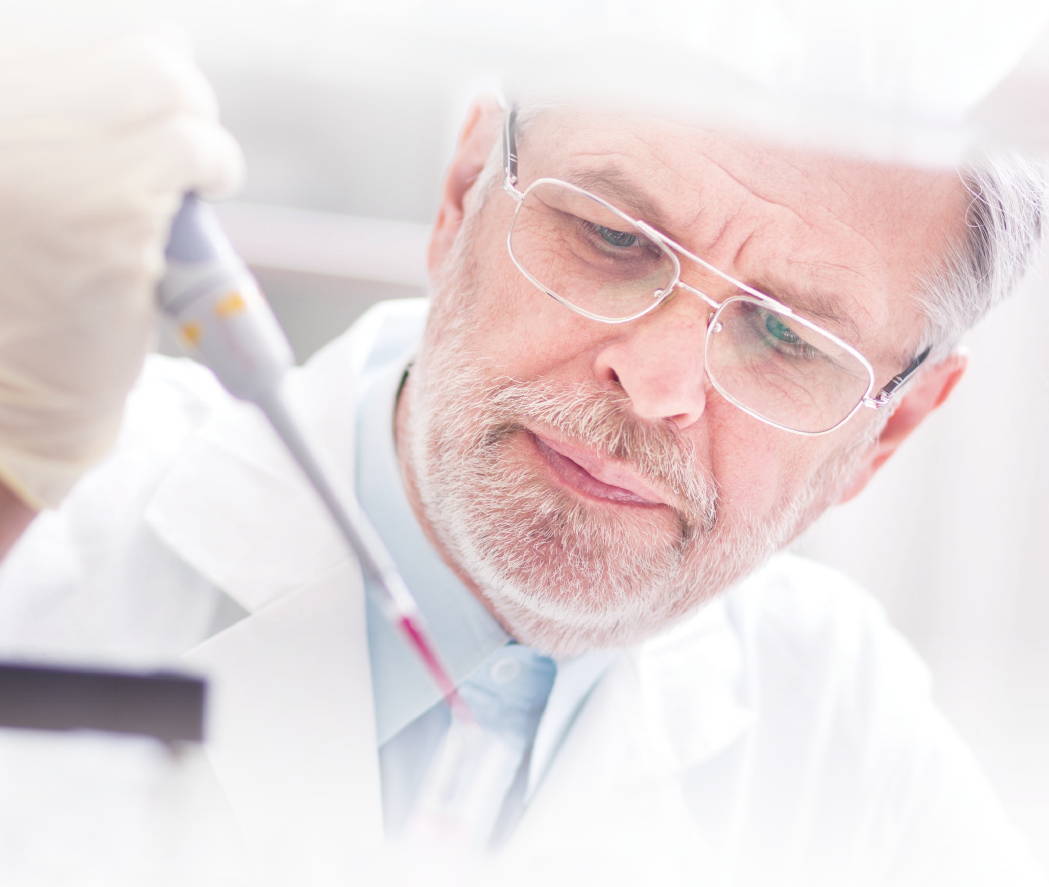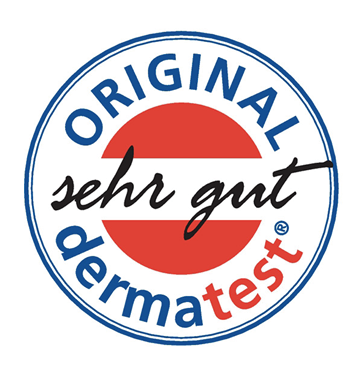 Dermatest is known for its strict standards and highly reliable procedures. Carrying out skin stimulation tests on humans.
The skin test results are certified at the highest level across the entire "Labottach hydrogel plaster" series.
"Very good" rating
Dermatest certificates for each product: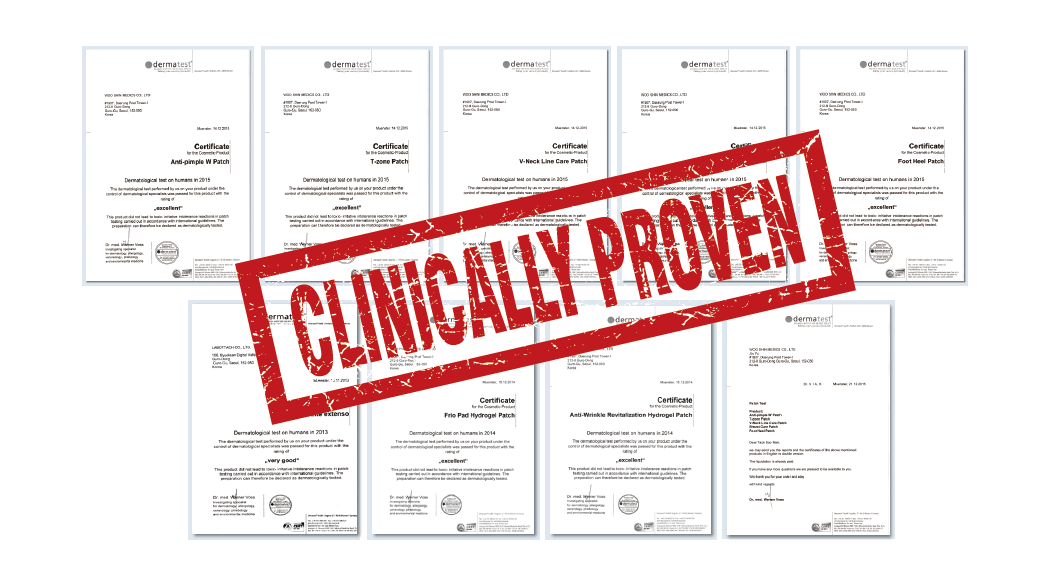 Clinical studies from around the world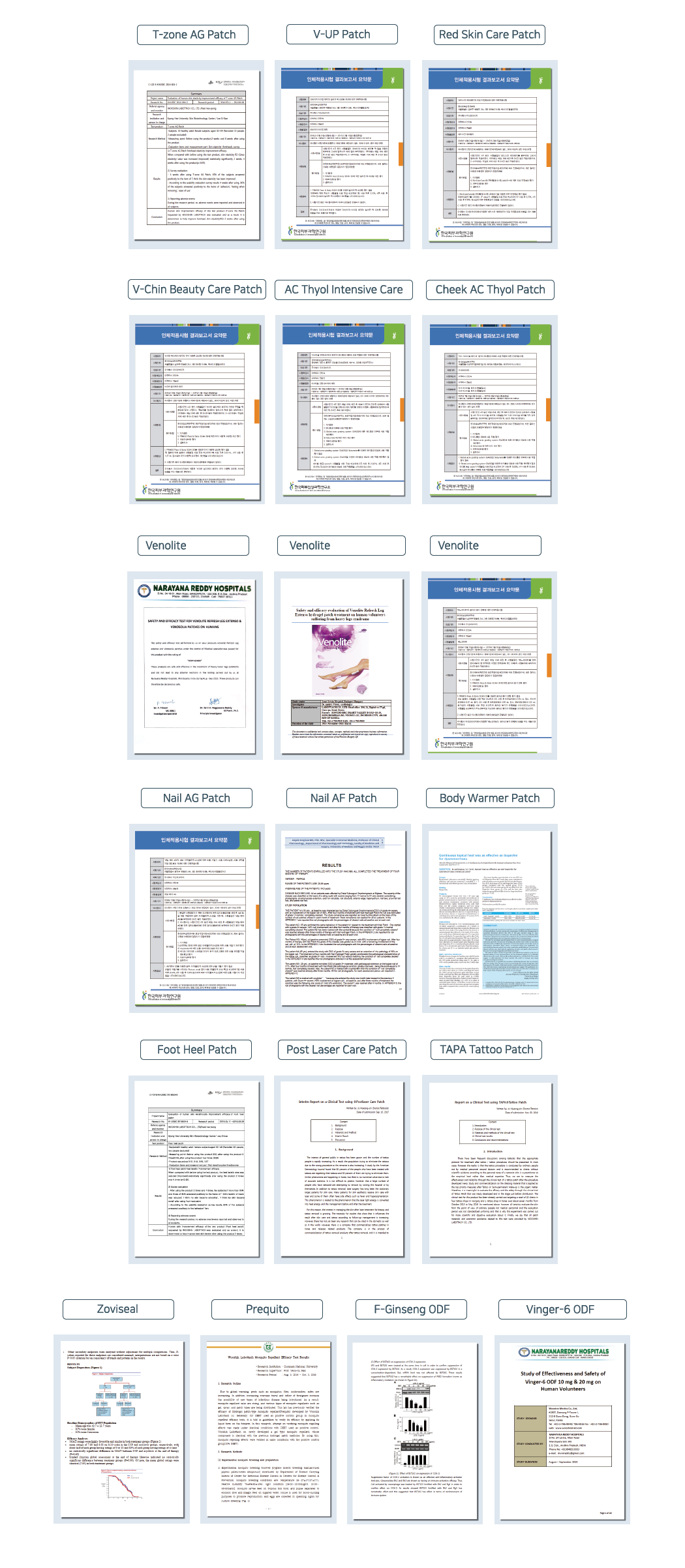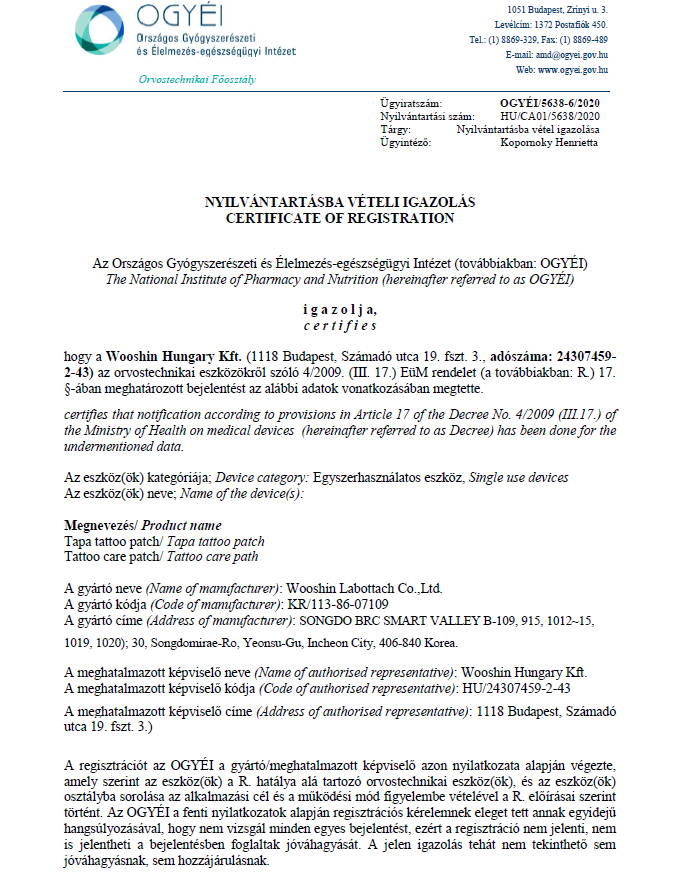 Registration for European Class 2 Medical Devices completed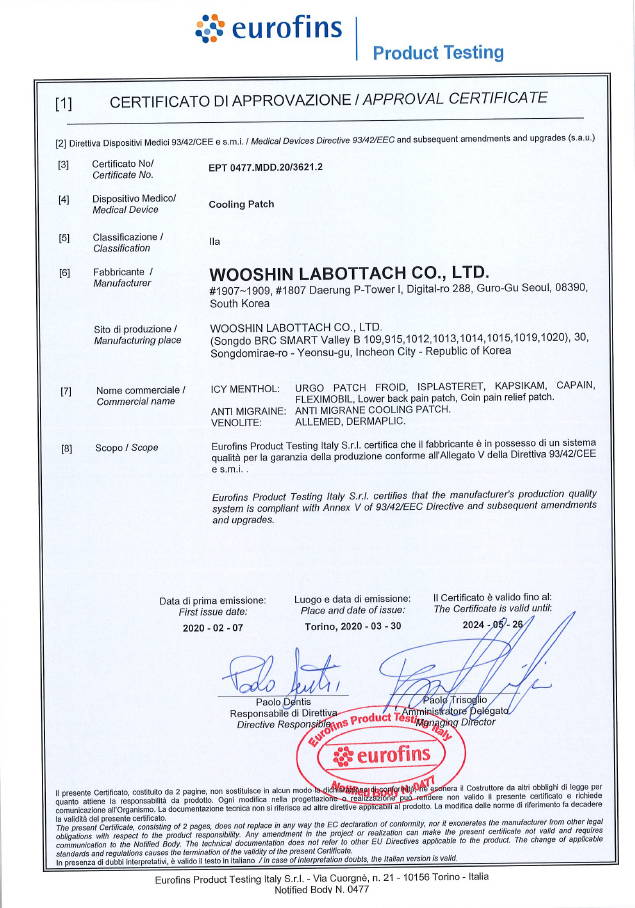 USA FDA registration completed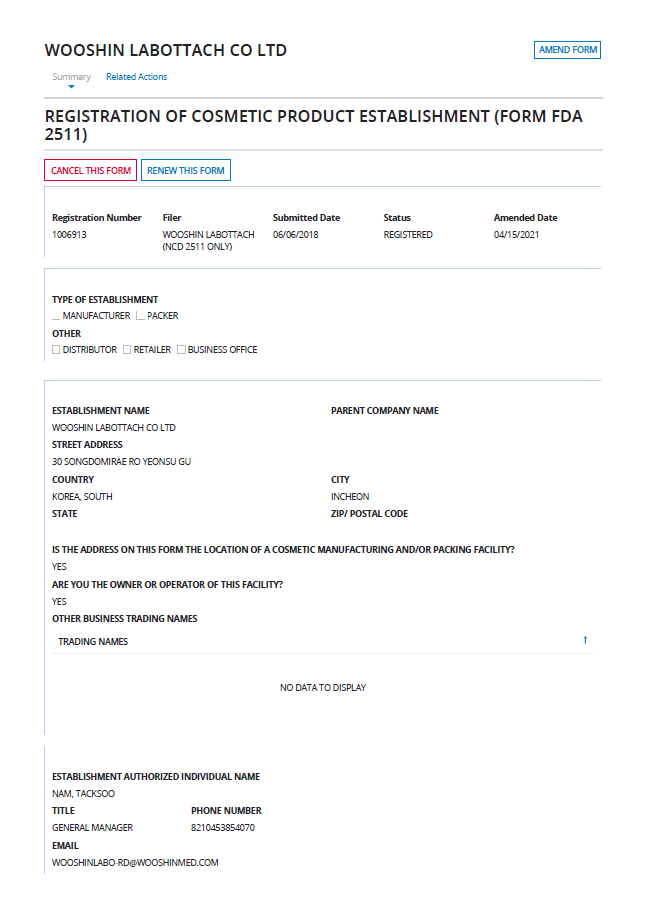 Manufacturing
EXCELLENT MANUFACTURING PROCESS
Labottach's own factory in Korea and Slovenia
Manufacturing system for our Incheon, Songdo Patches and ODF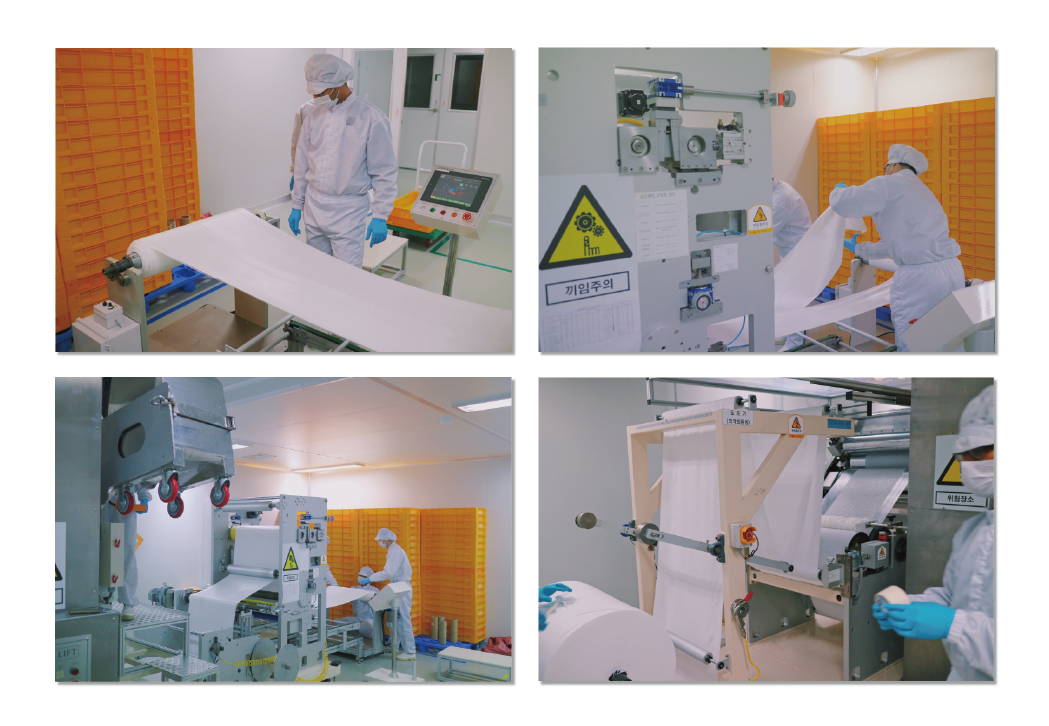 Our production facility in Slovenia for medicine and medical devices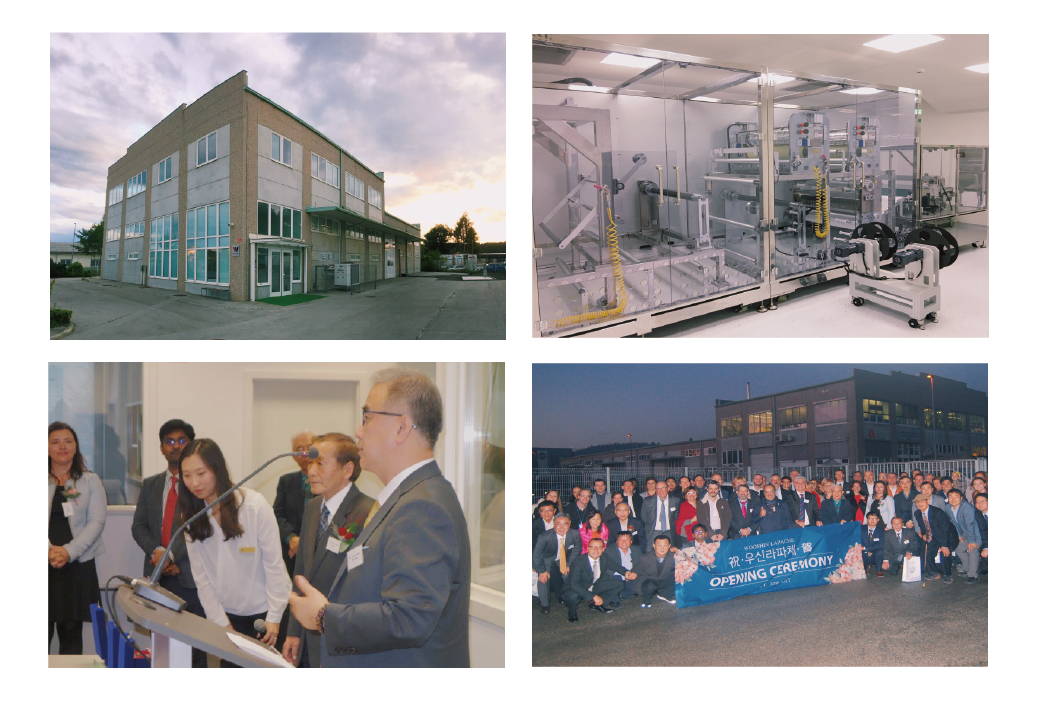 ISO certified facility
Strictly certified for the design, development, manufacture and sale of patch products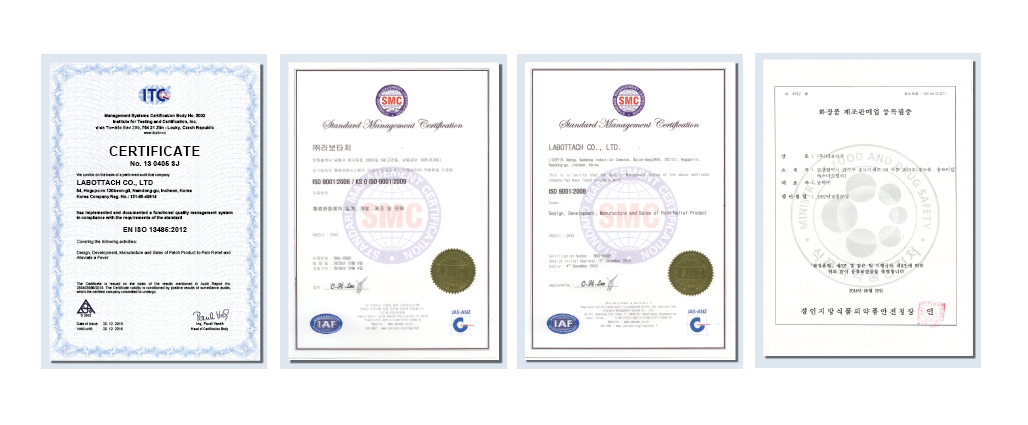 GMP & HACCP certified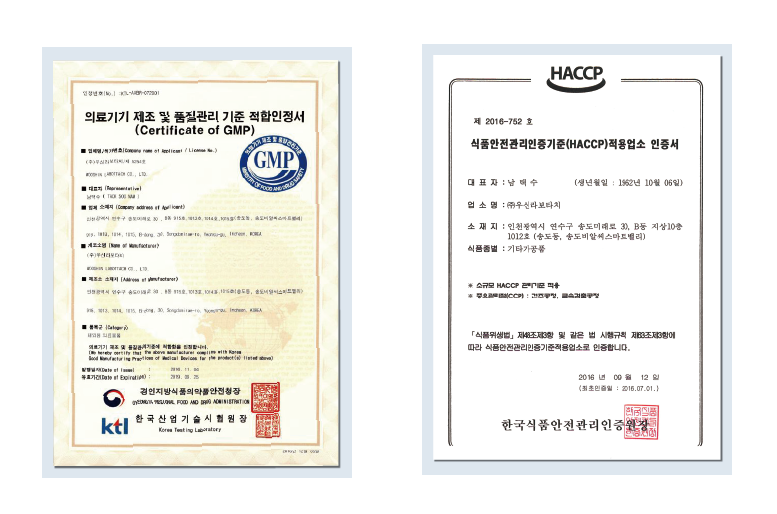 Facility
Certified for medical devices, HACCP manufacturing and quality control
Research & Developement
LABOTTACH RESEARCH AND DEVELOPMENT CENTER
Seoul, South Korea

Quality, safety and customer satisfaction

We develop the best solution for excellent quality and safe products for high customer satisfaction with strict quality control discipline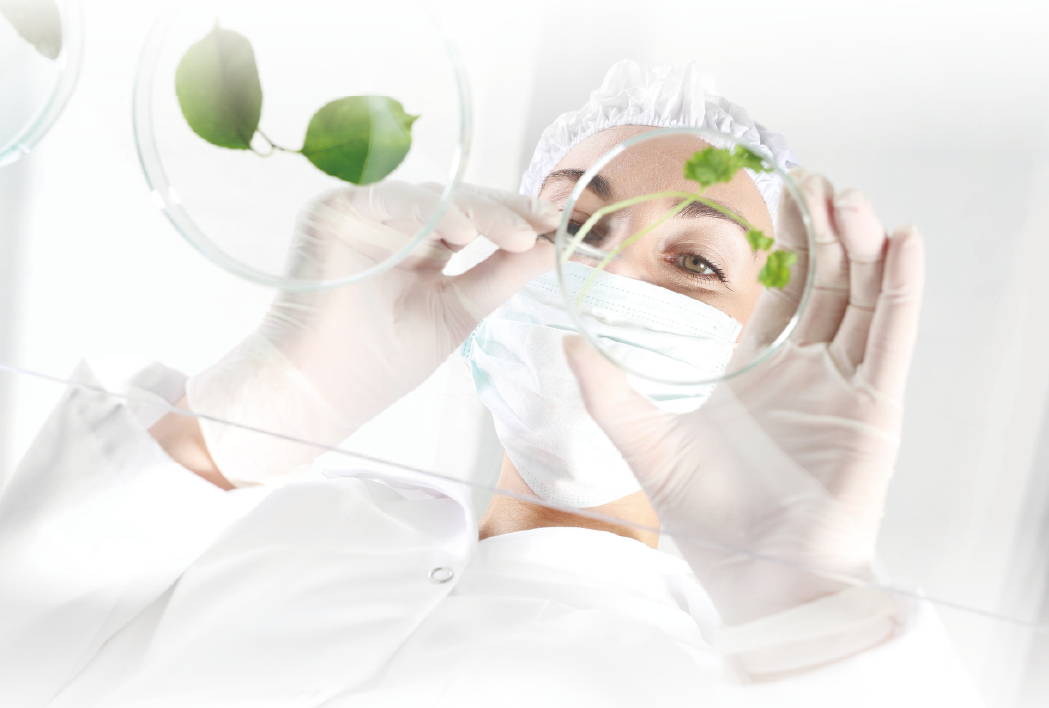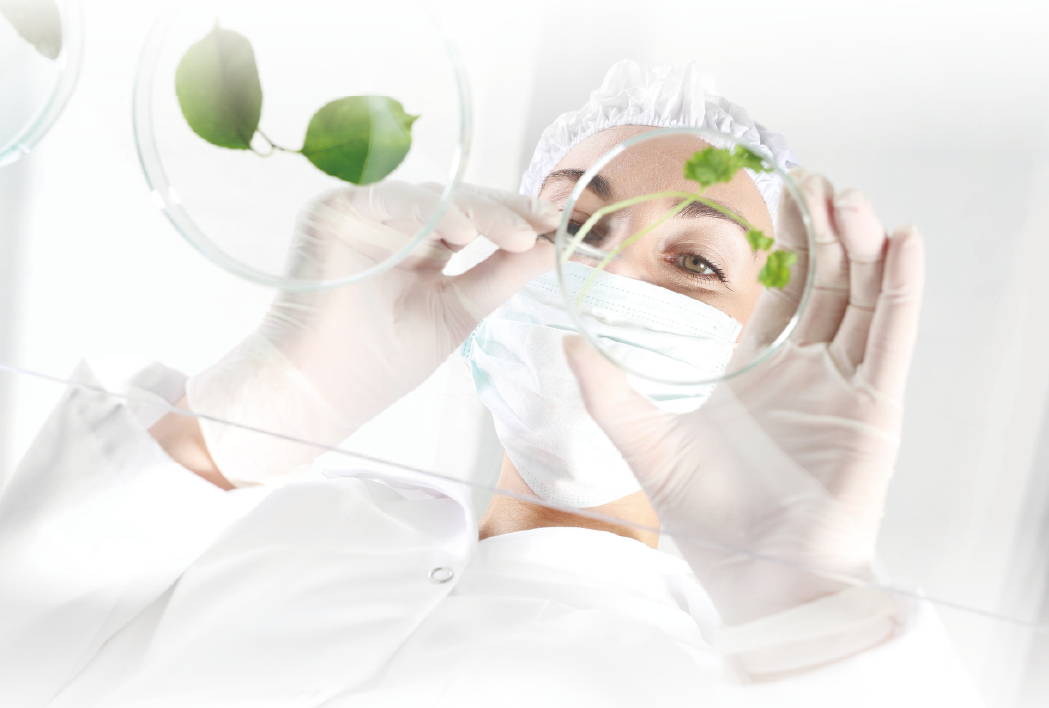 International experts

Professional Research and Development Center Consisting of 11 Pharmacology Masters PhD holders from all over the world,
including Malaysia, China, Taiwan, Nepal, Korea and others.
Wooshin Labottach researchers achieve research results in various areas.
From cosmetics to state-of-the-art pharmaceuticals with high technology through consistent research and development.
Insight into our research center in South Korea